George Rhodes
Fine Art Photography
About the Artist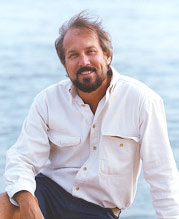 George Rhodes is a professional, Florida based fine art photographer. His photographs have appeared in publications worldwide, educational textbooks, notecards and posters. His work has been widely exhibited in outdoor art festivals, public buildings and galleries and museums in the United States, England and Canada. He has received numerous awards of excellence for both exhibited and published work, at the local, state, national and international levels. Among his awards are the coveted BBC International Wildlife Photographer Award in London, England and "Best of Show" award at Art's Alive in Ocean City, Maryland.

George grew up in the quiet town of Fort Lauderdale, Florida in the 1950s. Always exploring the waterways at the edge of his childhood home, he would leave in his small wooden craft in the early morning and hopefully return by dusk, to his mother's great relief. His photographs reflect the serenity of a massive driftwood in tropical waters, a rustic, abandoned beach shack, a wild horse on a desolate barrier island, or a gentle manatee as it peers into the lens of his underwater camera.
ARTIST STATEMENT
Artistic composition can be found anywhere, in almost anything, all around us. In my work, I strive to capture an actual moment in time. None of my images are "manufactured" in Photoshop, or by any other means. I do not alter the color, composition, or anything else, to an extent that would adversely affect the integrity of my original images. I particularly enjoy utilizing color as a primary element of my work.

My images are captured with either a fully manual 6 X 7 format "Pentax 67" film camera, or a state of the art, high res, digital Nikon camera. I print my C print (chromogenic) images on traditional, light sensitive, archival photographic paper. I print my archival pigment prints on professional Epson paper or canvas, utilizing Epson Ultrachrome 100 year archival inks.
--- George Rhodes